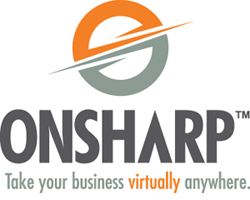 Fargo, ND (PRWEB) June 01, 2012
Fargo Moorhead West Fargo Chamber of Commerce presented the 2012 ChamberChoice Small Business of the Year award to Onsharp, May 17th. The FMWF Chamber announced the winners during the ChamberChoice Awards Luncheon at the Holiday Inn of Fargo.
Each year, the Fargo Moorhead West Fargo Chamber of Commerce selects three finalists from the following categories: Small Business of the Year, Business of the Year, Small-Not-For-Profit of the Year, Not-For-Profit of the Year, Young Professionals Best Place to Work and Entrepreneur of the Year. There were a record-breaking number of nominees for the awards and 42 of the nominees completed applications for the honors.
The ChamberChoice finalists are chosen by a panel of independent judges from the regional business community, who evaluated accomplishments in the areas of business growth, innovation, creativity, community involvement and unique achievements relating to a specific business or industry. Fargo Moorhead West Fargo Chamber of Commerce.
This was the second consecutive year that Onsharp has been nominated for the honor. On behalf of everyone at Onsharp, Id like to thank the Chamber for selecting us as this years Small Business of the Year. We are very fortunate to have a hard-working and caring team of individuals who are passionate in their service to our clients and our community. I am very proud of our teams accomplishments and they accomplishments, and they are very deserving of this recognition, says President, Joe Sandin.
There is more information about the ChamberChoice Awards program online at http://www.FMWFChamber.com/chamberchoice.
Onsharp is an interactive agency that architects, builds, and supports web-based solutions. We're passionate about technology, but not just because we think it's cool. We are experts at helping businesses understand how new technologies and trends can help them meet customer demand while improving productivity. Onsharp strives to create success in the lives of all people, businesses, and communities they serve. For more information about Onsharp, please visit http://www.onsharp.com or call toll-free at 1.866.ONSHARP.