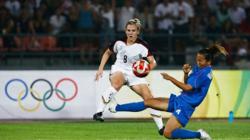 (PRWEB) April 30, 2012
– Football tickets will be available from 11am on 30 April until 11pm on 6 May 2012

First come, first served online or by phone
Remaining Olympic tickets for all sports to go on sale in May. Full timetable and sales process to be announced later this week.
The London Organising Committee of the Olympic Games and Paralympic Games (LOCOG) confirms that tickets for the Olympic Football tournament will go back on sale from 11am on Monday 30 April until 11pm on Sunday 6 May 2012.
Tickets will be sold on a first come, first served basis at http://www.tickets.london2012.com or via telephone on 0844 847 2012.
The draw for the tournament took place last week and the full fixture and price list is available here: View the full fixture and price list (pdf).
Highlights of the draw include the Team GB Womens team kicking off the tournament and the Olympic Games against New Zealand in Cardiff.
In the Mens tournament, current world champions Spain play Japan at Hampden Park and St James Park Newcastle will host Brazil v New Zealand.
Tickets start at