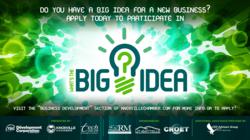 Knoxville, Tennessee (PRWEB) April 27, 2012
After sifting through dozens of applications, the Knoxville Chamber, The Development Corporation of Knox County, and Tech 20/20 are proud to present this years quarterfinalists in the Whats the Big Idea!? Business Plan Competition. The competition is sponsored by Rodefer Moss and Company.
All of the applications were very impressive and were excited to move forward with these twelve quarterfinalists, Todd Napier, executive vice president of The Development Corporation said. Nurturing start-ups and small businesses is a big part of what we do and were proud to have Rodefer Moss, the Knoxville Chamber, and Tech 20/20 helping inspire entrepreneurs.
The 12 quarterfinalists are:
Casenova Backpack